Garden Mouse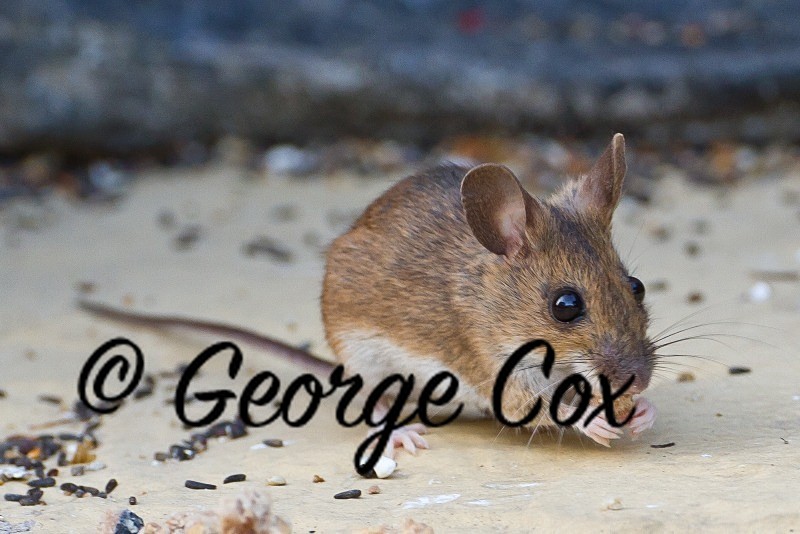 In the south of England the wood mouse's larger cousin, the yellow-necked mouse, sometimes comes into gardens. The yellow-necked mouse is larger, and has a yellow band across the chest (the wood mouse has a yellow spot on the chest, to confuse matters). Both species have a white underside.

The house mouse is the same size as a wood mouse, but is a uniform grey-brown colour.
Size
Wood mouse

Head and body length, 8-10cm (3-4in), tail 7-11cm (2 ½-4 1/2in)

Yellow-necked mouse

Head and body 9-12cm (3 ½-5in), tail 9-12cm (3 ½-5in)

House mouse

Head and body 7.5-10cm (2 ¾-4in), tail 7-9.5cm (2 ½-3 3/4in)
Distribution

The wood mouse and house mouse are found all across Britain. The yellow-necked mouse is more restricted, found in the south and southeast, and parts of south west, and Wales.
Status

All three mouse species are abundant wherever there is suitable habitat. None have any legal protection.
Habitat preference

The wood mouse is an inhabitant of woodlands and hedgerows, but is adaptable and finds conditions much to its liking in many gardens. The yellow-necked mouse is more of a woodland specialist, so is more likely to appear in mature gardens with plenty of seed-producing trees and shrubs.

The house mouse has a long association with mankind: it has been living in and around our homes and farm buildings since prehistoric times. Indoors it can be a pest, eating and fouling stores of grain. Nowadays it generally lives out in hedgerows and scrub during the summer, only attempting to come inside during the cold and hungry winter months
Where to find them in the garden

Mice generally live in burrows, coming out at night to forage among the vegetation and leaf litter. You are more likely to find signs they leave than the animal itself. Wood mouse burrow entrances are circular holes about the size of a 50 pence coin.

Wood mice are great hoarders, they like to collect spare food, especially in autumn to see them through the winter. These food caches are usually underground, however if you find a pile of seeds or cherry stones at the back of the greenhouse or shed, or even in an unused bird box, a wood mouse is the most likely culprit.
Role in the garden

Mice have a varied diet, feeding on seeds, nuts, fruits and insects, and find abundant food supplies in most gardens. They are great climbers, and will sometimes climb up bird tables to dine on the food we put out for the birds.

Their secretive behaviour is because mice are themselves food for many predators: owls, kestrels, foxes, stoats, weasels and even domestic cats.
The most common garden mouse is the wood mouse. It is easily identifiable by its huge ears, pointed face, dark brown coat and long thin tail.